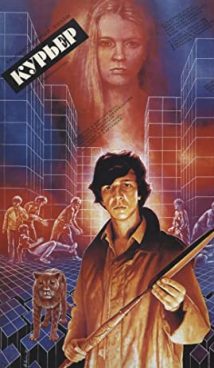 Synopsis
"Courier" (Russian: "Курьер") is a classic Soviet film from the "Perestroika" period. The young man Ivan Miroshnikov could not enter the university the same year he graduated from school. Having got a temporary job as a courier for a magazine, Ivan will soon have to serve in the army. One day, the boss sent Ivan to the author for a manuscript. So, the young guy ended up in the family of Professor Kuznetsov, whose lifestyle is unusual for the protagonist.
Karen Shakhnazarov in his film raises many important topics including the search for oneself, anxiety for the future, the conflict of generations, ages and social groups.
Interesting Facts
First shown to the public in 1986, the "Courier" movie was released in the USSR only in 1987.
Although the film entered the competition program of the Moscow International Film Festival, Federico Fellini's "Interview" won the gold prize that year. Meanwhile, "Courier" limited itself to a special jury prize. However, later the film was awarded the Vasiliev Brothers State Prize.
The film "Courier" was based on the novel of the same name by Karen Shakhnazarov, released several years before the start of filming.
Fyodor Dunaevsky, the leading actor in the film, was a classmate of Anastasia Nemolyaeva, whose acting debut took place at the age of 11. It was Anastasia – previously played with Fedor in the theater studio – who proposed the actor for the main role. According to Fyodor, he agreed to shoot in the film solely because of the fee, which was 140 Soviet rubles.
According to the magazine "Soviet Screen", the "Courier" became the best film in 1987.
About
Courier is a Soviet-made tragicomedy film premiered on December 29, 1986.
Related Films
Zerograd
Winter Evening in Gagra
Plumbum, or The Dangerous Game
Tags: USSR, drama, tragicomedy, youth, Karen Shakhnazarov, Oleg Basilashvili, Inna Churikova