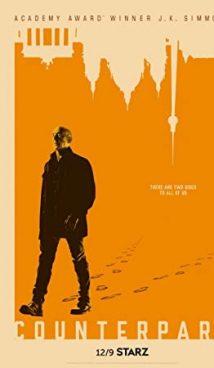 TV-MA
01 hours 00 minutes
Synopsis
Once, in 1987, as a result of a scientific experiment conducted by a scientist Yanek in East Germany, a strange thing happened – our world split into two, and now there are two parallel realities, each of which have chosen its own path. To maintain communication between the two worlds, there is a kind of portal through which representatives of the two sides organize diplomacy and exchange ambassadors. Meanwhile, a monstrous flu epidemic hit one of the worlds. Since then, the fates of these two realities diverge further and further.  In addition, the world affected by the epidemic suspects that the second world is its cause.
Howard Silk, a UN officer in Berlin, is the protagonist of the TV show. Soon, Silk learns not only about the divided worlds, but also about the existence of his counterpart, which is a tough and cold-blooded agent from a parallel reality. Soon, both main characters will be embroiled in an incredible maelstrom of diplomacy, espionage and assassination.
Interesting Facts
The first episode of the "Counterpart" TV series premiered on December 10, 2017 on Starz. The second season – which turned out to be the final for the TV show – premiered a year later.
The gorgeous actor J.K.Simmons, the leading actor, was able to portray two different Howard Silks quite successfully. The winner of the 2015 Academy Awards, Simmons is not losing ground, constantly delighting viewers with new outstanding roles. Notably, the actor will play the role of James Gordon in the film "Zack Snyder's Justice League" which will premiere in 2021.
About
Counterpart is an American-made fantasy thriller television series. Season 1 of the TV show premiered on December 10, 2017 on Starz TV.
Related Shows
Berlin Station
The Man in the High Castle
The Americans
The Capture
Tags: drama, fantasy, parallel world, adventure, thriller, spies, diplomacy, Berlin, J.K. Simmons