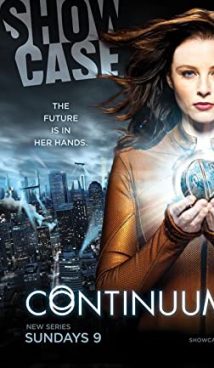 Synopsis
Kiera Cameron, the protagonist of the TV show, lives in Vancouver of the future. She is a citizen of the North American Union that united the US and Canada. Working in law enforcement, Kiera suddenly finds herself in a whirlpool of events. Self-proclaimed freedom fighters, a group of terrorists, broke free and traveled back in time using the technology of the future. Kiera Cameron also traveled to 2012 with the terrorists. She has two tasks – to catch the terrorists and return to Vancouver in 2077, where her husband and son are waiting for her. However, there is a possibility that Kiera's actions could change the future.
Interesting Facts
The broadcast of the TV series was launched on May 27, 2012 on the Canadian TV channel Showcase. With over half a million views of the pilot, this release was a huge success for Showcase. However, "Continuum's" ratings began to fall over time, and the TV series was canceled on October 9, 2015, following the release of a short fourth season.
It is noteworthy that Kyle Cameron, the male character, was originally supposed to become the protagonist of the TV show. However, the script was adapted for the female protagonist later. At the same time, the creators of the TV show did not change the character's last name, expressing a tribute to director James Cameron.
Episode titles for the first, third and fourth seasons use the words "time", "minute" and "hour", respectively.
Simon Barry, showrunner for "Continuum", has worked on TV series such as "Van Helsing" and "Ghost Wars" since the finale of the show. The "Warrior Nun" TV show, Barry's latest creation to date, was released in 2020 on Netflix streaming platform.
About
Continuum is a Canadian fantasy thriller TV series. The first season of the TV show was premiered on May 27, 2012 on Showcase TV.
Related Shows
Defiance
Falling Skies
Haven
Terra Nova
V
Tags: fantasy, adventure, thriller, drama, time travel