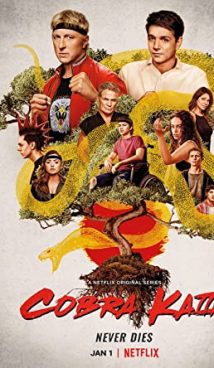 Synopsis
The "Cobra Kai" TV series is the sequel to the 1984 cult film "The Karate Kid" about the confrontation between two teenagers Daniel LaRusso and Johnny Lawrence. According to the plot of the movie, the guys competed both in school and in karate competitions.
The TV series shows the events that took place 30 years after the film: although Daniel and Johnny have become adults for a long time, the spirit of opposition is still here.
Lost in the final fight in "The Karate Kid" movie, Johnny Lawrence opens a karate school called "Cobra Kai" where many teenagers come to study martial arts. Now, not only revolving around Johnny's life, the plot of the TV series tells about the confrontation between Cobra Kai and other karate schools.
Interesting Facts
Season 3 of the TV show premiered on January 1, 2021 on Netflix, with all episodes immediately available for viewing.
Remarkably, "Cobra Kai" was a TV series commissioned by YouTube, which tried to develop its own series (however, did not achieve success in this direction). Acquiring the rights to "Cobra Kai" in 2020, Netflix commissioned two seasons of the TV show at once. So, "Cobra Kai" will be renewed – however, a new season premiere date has yet to be announced.
Ralph Macchio and William Zabka, who played Johnny and Daniel in "The Karate Kid" movie over thirty years ago, are the stars of the "Cobra Kai" TV series.
About
Cobra Kai is American-made action-tragicomedy TV series. The Season 3 of the TV Show premiered on January 1, 2020 on Netflix streaming platform.
Related Shows
GLOW
The Boys
Stranger Things
Tags: drama, comedy, action, martial arts, karate, sequel, sequel, karate kid, Netflix