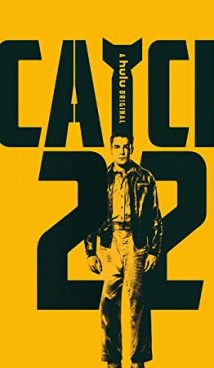 Synopsis
The TV series takes place on an Italian island in the Mediterranean during the Second World War. The US Army Air Squadron is stationed here, carrying out daily combat missions to the enemy camp. Captain John Yossarian (Christopher Abbott), one of the squadron's bombers, is in permanent shock realizing the fact that he has to kill people and that there are people ready to kill him. Due to the bureaucratic Catch-22 trick that excludes the possibility of dismissal, he cannot relinquish his duties. So, Yossarian is forced to accept, fulfilling the quota for the number of aircraft knocked out in order to be able to go to the reserve. However, as the command periodically increases this quota, Yossarian stops keeping up with it.
Interesting Facts
All six episodes of the "Catch-22" miniseries were released on May 17, 2019 on the American Hulu TV channel.
Filmed as a miniseries, "Catch-22" will not be renewed.
"Catch-22" is a TV show based on the novel of the same name by Joseph Heller, released in 1961 and already filmed once. The "Catch-22" movie starring Alan Arkin as Yossarian premiered in 1970. It is noteworthy that "Catch-22" novel is based on the own story of Joseph Heller, who served in Corsica during the Second World War and flew 60 combat missions.
The main action of both the TV series and the literary source takes place on the island of Pianosa located in the Tyrrhenian Sea between Tuscany and Corsica, while the seaside scenes were filmed on the island of Sardinia. The town of Viterbo, located 80 kilometers from the Italian capital, was used for filming Roman scenes.
About
Catch-22 is an American-made TV series based on the military tragicomedy novel of the same name by Joseph Heller. The first season of the TV show was premiered on May 17, 2019 on the American Hulu TV channel.
Related Shows
Catch-22 (the movie 1970)
Trust
Avenue 5
Tags: drama, comedy, satire, tragicomedy, World War II, Italy, adventure, war film, George Clooney