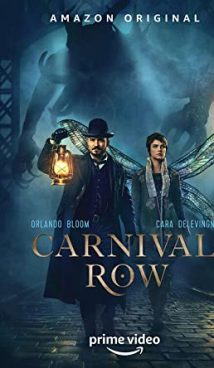 Synopsis
In Carnival Row, we find ourselves in a magical world where fairies, fauns, werewolves, and kobolds live next to ordinary people. It all might look like a fairy tale. However, things are not so simple in the world of Carnival Row. An aggressive realm had conquered the lands of fairies and fauns, so mythical creatures became refugees and immigrants of which ordinary people are not very fond.
Before us is the city of Burgue, in which mysterious and brutal murders take place. In the course of his investigation, Police Inspector Rycroft Philostrate (Orlando Bloom) encounters his former love, the fairy Vignette (Cara Delevingne). Old feelings are reawakened, and a love drama joins the detective story.
The creators of Carnival Row are sometimes overly addicted to the romantic story and social overtones, which has caused some criticism. On the other hand, the series showcases a fascinating idea of a magical world with beautiful visuals, which we hope the showrunners will continue to develop in the new season.
Interesting Facts
All episodes of the first season of Carnival Row were released on the same day, August 30, 2019, on Amazon Prime around the world. A month before the premiere, it became known that the series will also have a second season. The filming started in early 2020 but was frozen due to the coronavirus pandemic. The second season of Carnival Row is unlikely to premiere before mid-2021.
The series has been nominated for three Emmy Awards — for costumes, title theme song, and design of its opening — but has not received any.
Information
This is an American fantasy TV-series.
The premiere of the first season of Carnival Row took place on August 30, 2019, on Amazon Prime.
More Like This
Good Omens
The Witcher
American Gods
Tags: fantasy, drama, romance, love, fantastic creatures, magical world, social injustice, Orlando Bloom, Cara Delevingne