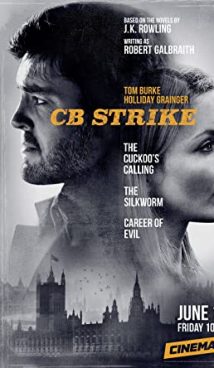 TV-MA
01 hours 00 minutes
Synopsis
The Strike TV Series tells the story of an unusual private detective who is an Afghan war veteran lost his leg in the bombing. Experiencing psychological trauma and feeling insecure due to injury, Strike compensates for his problems with successful detective work. The protagonist, together with Robin Ellacott, his devoted assistant, is able to unravel even the most difficult cases.
Interesting Facts
Holliday Granger, the actress who played Robin, the protagonist's assistant, became more famous and popular for this role. She was invited to the all-star cast of Capture, the hit British-made TV series that premiered in 2019.
K. Rowling, who gave the world a series of novels about Harry Potter, is the author of a series of detective novels about Strike taken as the basis for this TV show plot. The Casual Vacancy is another British TV mini-series based on the novel by Rowling. It was premiered in 2015 on the BBC British TV channel.
Since in January 2020, J.K. Rowling announced that she had completed her fifth novel about Cormoran Strike, the series will most likely be renewed soon.
The first season of the TV series is the adaptation of two novels at once – "Cuckoo's Calling" and "Silkworm". The "Career of Evil " novel was taken as the basis for a three-part second season. As for the third season, it came out under the title of "Lethal White". According to Rowling, she has plans to write at least ten detective novels about Cormoran Strike.
Tom Burke is the star of The Strike TV Series. While participating in other television shows, he managed to try himself in the roles of Athos (The Three Musketeers), Napoleon Bonaparte, Casanova's son Jacques, and Fyodor Dolokhov in the British adaptation of "War and Peace" novel filmed in 2016.
About
The Strike is a British detective television series based on the novel series by J.K. Rowling. The third season premiered on 30 August 2020 on the British BBC.
Related Shows
Perry Mason
The Capture
Dublin Murders