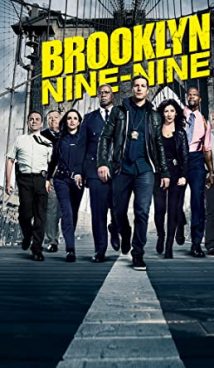 Synopsis
The "Brooklyn Nine-Nine" TV show talks about the 99th Brooklyn Police Station. Raymond Holt, the new head of the police department, is shocked by who his new subordinates are – three detectives, including an infantile person, a nerd one and a very aggressive woman. It looks like a real police zoo. Surprisingly, although they turn their service into something like real circus performance from time to time, in general, these police officers carry a decent service.
The "Brooklyn Nine-Nine" is a hilarious multi-part police comedy that will not let the viewer get bored even for a second.
Interesting Facts
Released on September 17, 2013 on Fox, the TV series has gained a huge fan base. Renewed several times, "Brooklyn Nine-Nine" was canceled by Fox after the Season 5 finale. Then, several TV channels and streaming platforms including Hulu and Netflix vied for the rights to the TV show. However, in the end, the comedy television series moved to NBC, which continued to develop its plot. NBC has already released two new seasons. Notably, Season 8 is slated to premiere in 2021.
TV producer Michael Schur, who is best known for his work on "The Office", "Parks and Recreation", and "The Good Place", is the showrunner for "Brooklyn Nine-Nine".
"Escouade 99", a French-language remake of the original TV show set in a Quebec Police Station, was released in Fall 2020 in Canada. Curiously, the budget for the entire season of "Escouade 99" is comparable to the cost of filming one episode of "Brooklyn Nine-Nine".
About
Brooklyn Nine-Nine is an American-made police comedy TV series. The first season of the TV show premiered on September 17, 2013 on Fox.
Related Shows
Friends
The Office
How I Met Your Mother
The Big Bang Theory
Modern Family
Community
Tags: comedy, sitcom, crime, police, New York