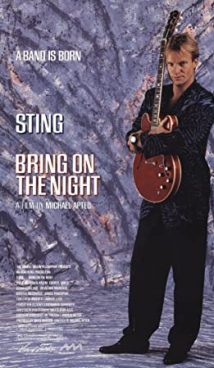 PG-13
01 hours 37 minutes
Synopsis
Bring on the Night is a documentary about the great musician Sting at the very beginning of his solo career.
In 1984 the band called The Police, of which Sting was one of the founders, split, and all its members began their solo careers.
Sting himself goes on tour with solo material, followed by director Michael Apted, who is filming a documentary about the singer taking the first steps of a solo career. The focus is on the final week of rehearsals before the concert in Paris.
Interesting Facts
The documentary Bring on the Night premiered on November 8, 1985.
Sting's first solo album was called The Dream of the Blue Turtles and was released on June 1, 1985. A year later, a live album Bring on the Night was released, recorded during the tour, to which the Bring on the Night documentary is dedicated.
By the way, both the live album and the film got a Grammy each.
The song Bring on the Night was originally recorded for the 1979 album The Police.
In total, Sting (or Gordon Matthew Thomas Sumner) has only one Golden Globe, an Emmy, seventeen Grammy awards, and four music nominations for an Oscar.
In 1985 Sting also appeared in two films, The Bride and Plenty.
The director of the film, Michael Apted, is not only involved in documentaries. In particular, he directed one of the Bond films (The World Is Not Enough), a drama about the anthropologist Dian Fossey (Gorillas in the Mist: The Story of Dian Fossey), and fantasy about Narnia (The Voyage of the Dawn Treader).
Information
This is an American musical documentary.
The world premiere of Bring on the Night took place on November 8, 1985.
More Like This
Searching for Sugar Man
Amy
Miss Americana
Cobain: Montage of Heck
This Is It
Tags: music, concert, Sting, rock, jazz, documentary, music tour