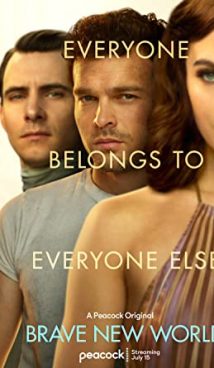 Synopsis
Welcome to the future! With the series' main characters, we find ourselves in New London, where a completely new society has been built, members of which experience no misfortune, sadness, and monogamy. Children are born here from a test tube and are immediately assigned to one of the castes, from the supreme Alpha-plus, that is allowed to do almost everything, to Epsilon, whose fate is having all the hard and unpleasant work. Everyone has a container with a drug called soma in their pocket, which allows them to forget unnecessary emotions. This amazing society's life drastically shifts when John, a lost Alpha who cannot live by these strange rules, arrives in New London from the distant Wildlands.
Brave New World is a very loose adaptation of Aldous Huxley's dystopia. The scriptwriters tried to adapt the plot to new realities, change accents, and touch upon the most important issues of our time. You can find out whether they have succeeded in this by watching the new series Brave New World.
Interesting Facts
British actor Harry Lloyd, known as Viserys Targaryen from Game of Thrones, portrays one of the main characters in the series. Lloyd dropped out of the HBO's epic early, which allowed him to pursue his television career. In particular, he played one of the main roles in the successful series Counterpart about parallel realities and also portrayed Charles Xavier in the TV-comics Legion. By the way, Harry Lloyd is a great-great-great-grandson of the famous writer Charles Dickens.
Brave New World is the headliner of the new streaming service Peacock that was launched on July 15, 2020.
Alden Ehrenreich, famous for the role of young Han Solo in the 2018 solo movie, portrays John the Savage. Harrison Ford watched the Solo: A Star Wars Story movie twice and even praised Ehrenreich.
By the way, the name of the main character is Lenina. Aldous Huxley named her after Vladimir Ulyanov.
Information
This is an American-made Sci-Fi drama based on the Aldous Huxley's novel of the same name.
The premiere of the first season took place on July 15, 2020 on the new service Peacock.
FAQ
What channel is behind the TV-series production?
Brave New World was filmed for the streaming service Peacock.
Will there be a continuation?
The TV-series producers have not given any word about possible Brave New World continuation yet.
More Like This
3%
Humans
Westworld
The Handmaid's Tale