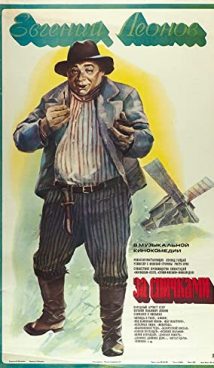 Synopsis
This story begins one fine summer day in the Finnish farm where the Ihalainen live, when they run out of matches. Deprived of the opportunity to light a fire, the Finns cannot prepare coffee, their favorite drink. Antti Ihalainen was sent by his wife to Hyvarinen, their neighbor. The meeting on the way with Jussi Vatanen, Antti's bosom friend, was the beginning of a series of very unusual and funny events – matchmaking, a lot of vodka, chases, imaginary deaths, a night in the police, another matchmaking, and, of course, a happy ending.
This very frivolous motion picture is the fruit of the joint work of one of the most important Soviet comedy directors and his Finnish colleague. It impresses with its overly blue skies, unusually green meadows and very strange drunken antics that lead to extraordinary adventures – by the standards of simple country life – but have a happy ending.
Interesting Facts
Originally premiered in Finland, the "Borrowing Matchsticks" comedy film was later shown to Soviet public.
A joint film project, "Borrowing Matchsticks" is a starring of both Finnish and Soviet film actors.
Although the action of the film and the story itself (a literary source) take place in real villages and towns located in the Finnish province of North Karelia, it was decided to shoot the movie in Porvoo. It is noteworthy that Maiju Lassila, author of the novel "Borrowing Matchsticks", was born in North Karelia.
The film shows the events that took place before the October Revolution when Finland was still part of the Russian Empire.
About
Borrowing Matchsticks is a Soviet-Finnish co-production comedy film based on the novel of the same name by Maya Lassila. The movie was premiered in 1980.
Related Films
Borrowing Matchsticks (1938)
Sportloto-82
It Can't Be!
Grandads-Robbers
Tags: comedy, film adaptation, adventure, alcoholic beverages, USSR, Finland
Keywords: Tulitikkuja lainaamassa, Borrowing Matchsticks, Borrowing Matchsticks movie, Borrowing Matchsticks comedy, Borrowing Matchsticks adaptation, Borrowing Matchsticks 1980