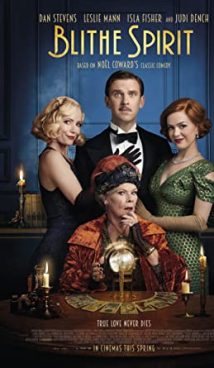 Synopsis
A writer Charles (Dan Stevens) suffers the writer's block and decides to turn to a medium Madame Arcati trying to collect some material for his new book. After a session, the spirit of his deceased wife Elvira (Leslie Mann) is inexplicably bought back to life instead of his inspiration. The widower should be happy at that fact, but he was already married for the second time.
Blithe Spirit is a funny film about supernatural love triangle that is shot in keeping with all canons of frivolous British film and creates the early twentieth century admirable atmosphere.
Interesting facts
This film is shot on the basis of similarly-named play (1941) successfully run in West End and Broadway Theatres. Additionally, the script was adopted many times for the TV series, radio drama and musical. That does not count the film of 1945.
An actor Dan Stevens played the main character in Blithe Spirit distinguished himself by playing in cult series Downton Abbey some years back. Further, he successfully acted as Beast in Beauty and the Beast and as a mutant in Legion, the one-of-a-kind serial comics. This summer Dan Stevens will appear in Eurovision Song Contest: The Story of Fire Saga, a musical comedy.
By the way, Edward Hall, the director of Blithe Spirit, shot several episodes of Downton Abbey, but he did not meet Stevens as his character left the show to that moment.
Information
The British-made film is based on the similarly-named play by Noël Coward and shot in the fantastic comedy genre.
The film will premiere in Great Britain on December 25, 2020.
Related Films
Death Becomes Her
Ghost
The Frighteners