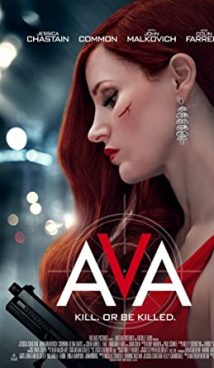 Synopsis
Once again, a great Hollywood actress portrays a headstrong woman. This time around, it's Jessica Chastain, the audiences' favorite and two-time Oscar nominee.
Jessica Chastain impersonates a killer named Ava. Ava completes her last assignment and returns to her home city of Boston to settle family affairs. Her mother is in the hospital, and her sister is going to marry the main character's ex-boyfriend.
Meantime, due to the failure that was her last special operation, Ava's boss is unhappy with his subordinate and decides to send other assassins to kill her. However, Ava is not that simple and can kill whoever she wants. A vicious fight for survival begins…
Interesting Facts
Initially, Ava was supposed to be shown in cinemas worldwide, however, the plans were changed due to the coronavirus pandemic. For some time the movie was in a frozen status, but in the end, its premiere took place in several countries. Film distribution started from Hungary on July 2, 2020 with several European countries following. However, in the UK and the USA, the movie can only be seen online.
A prominent Australian director Matthew Newton, the film's original screenwriter, was to direct Ava. However, after his involvement in several unsightly cases of domestic violence, US doctors diagnosed him with a bipolar disorder. As a result, Newton had to hand over his responsibilities to Tate Taylor. Tate Taylor stands behind such hits as The Help and The Girl on the Train. Jessica Chastain also starred in The Help, and it got her nominated for an Oscar.
Information
This is an American action movie.
Ava was premiered worldwide on July 2, 2020.
More Like This
Atomic Blonde
Red Sparrow
Tags: killer, hired assassin, revenge, family, ex-boyfriend, Jessica Chastain, Colin Farrell, Geena Davis, John Malkovich, Common