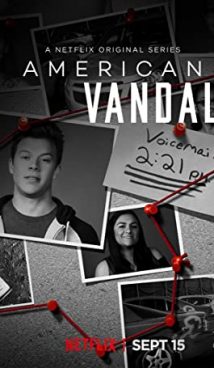 Synopsis
An American school is vandalized — someone has painted images of reproductive organs on twenty-seven cars in the teacher's parking lot. The school management instantly brings everything down to a loafer named Dylan Maxwell. However, there are also the guy's supporters. High school students Peter Maldonado and Sam Ecklund decide to investigate, following all the canons of a TV-documentary. They are interviewing classmates, studying schedules, paint, cars, and trying to find out if Dylan is involved in this act of hooliganism.
American Vandal is a very rude and impertinent but at the same time very smart and funny TV-series. It does not only mock all the canons of documentary investigations but offers a compelling plot.
Interesting Facts
The first season of American Vandal was released on Netflix on September 15, 2017. Originally planned as a mini-series, American Vandal was very popular with viewers and critics alike. It was only a matter of time before the show was renewed for a second season, which was released a year later. However, immediately after its premiere, Netflix announced that it closed the series.
In the second season, Peter Maldonado and Sam Ecklund conduct a new investigation of another act of vandalism. This time, someone mixed laxatives into the students' food at the Catholic school, turning the cafeteria into a public toilet.
Interestingly, American Vandal almost directly parodies the documentary series Making a Murderer, the first season of which was released in 2015. It was one of these TV-series that eventually brought Netflix to the top.
Information
This is an American-made parody comedy TV-series.
The first season of American Vandal premiered on September 15, 2017, on the Netflix streaming service.
More Like This
What we do in the shadows
Russian Doll
Atypical
Atlanta
Barry
Tags: comedy, parody, mock documentary, Netflix, school