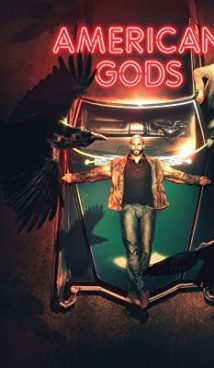 TV-MA
01 hours 00 minutes
Synopsis
This TV-series is the TV-adaptation of Neil Gaiman's famous novel of the same name. The plot is based on the idea that characters of various mythologies still live in the United States, where they got with the colonists and settlers. The gods have a sad existence because no one believes in them anymore. Meanwhile, the United States is ruled by completely different, modern deities. Among them are Media, Globalization, and Technology.
The old and new gods start a conflict with a former criminal named Shadow Moon in the center of it. It is he who will play an essential role in this war.
Interesting Facts
The first episode of the third season of American Gods will premiere on January 11, 2021, on Starz. Each episode will be released weekly until the end of March.
In recent years, the works of Neil Gaiman, who wrote the American Gods novel, have got lots of TV-adaptations. In 2016, the Lucifer TV-series was launched, based on the comic book, which plot was written by Gaiman. Also, the writer — and, in this case, showrunner — released the screen adaptation of Good Omens: a novel that was co-written with another great sci-fi writer Terry Pratchett. Good Omens was planned as a mini-series. However, the Amazon streaming service, which released the series, is thinking about a possible sequel. Now Neil Gaiman is engaged in a TV-adaptation of his The Sandman comic. It is at the pre-production stage.
Information
This is an American-made fantasy drama TV-series based on the novel of the same name by Neil Gaiman.
The third season of American Gods premiere on January 11, 2021, on Starz.
More Like This
Legion
Preacher
Good Omens
Hannibal
Tags: science fiction, fantasy, drama, mythology, Neil Gaiman, TV adaptation