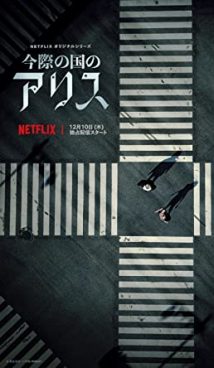 Synopsis
Carelessly wandering around Tokyo, three gouging friends get stuck in an unpleasant situation. After waiting for a while in the subway toilet, hiding from the police, they go outside and see that the world has changed. Deserted Tokyo has become a playground. Every evening, in different parts of the city, someone organizes deadly tests, the reward of which are playing cards that enable the winners to live another day or maybe two.
Three friends are trying to find a way out of this situation. However, can they even understand what is happening in this strange Tokyo, where each new test may be the last? At the same time, a mysterious laser kills everyone who decides to abandon the deadly games.
Interesting Facts
"Alice in Borderland" TV show 10 episodes were released on December 10, 2020 – via Netflix streaming platform. Two weeks after its premiere, the TV series was renewed for a second season.
The title of the TV show contains a reference to the book by Lewis Carroll, which is explained by the fact that Arisu is the incarnation of Alice, and Usagi is the White Rabbit (Usagi in Japanese means rabbit).
"Alice in Borderland" isn't the only Japanese-made TV series filmed for Netflix in 2020. The 6-episode prequel to the cult horror film "The Grudge" premiered on July 3, 2020.
About
Alice in Borderland is a Japanese-made TV series based on the fantasy thriller manga of the same name. Season 1 of the TV show premiered on December 10, 2020 on Netflix streaming platform.
Related Shows
Sweet Home
Kingdom
Black Mirror
Ju-on: The Beginning of the End
Tags: fantasy, thriller, survival, drama, quests, Tokyo, Japan, Netflix, film adaptation, riddles, manga