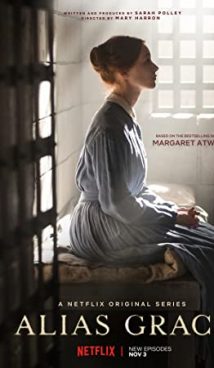 TV-MA
04 hours 27 minutes
Synopsis
Grace Marks was born in Ireland but still as a teenager immigrated with her family to Canada. And that's where the poor girl's griefs began to happen: first, her mother died at sea, then, in the new country her relationship with her father was completely darkened. After all, Grace got a job at Thomas Kinnear's house but along with her accomplice James killed both her employer and his housekeeper.
Sentenced to life in prison, Grace seemed to have accepted her fate, but here her case becomes the subject of close interest of the psychiatrist Simon Jordan who suspected that this crime was not as ordinary as it appeared on the surface.
Interesting Facts
The series "Alias Grace" was presented to the public at the Toronto International Film Festival, and then aired on the Canadian TV channel CBC Television.
"Alias Grace" is a screen version of the bestselling novel by Canadian writer Margaret Atwood. In general, the story about the girl Grace Marks is inspired by true events. Real Grace lived in Ontario in the 19th century and was involved in the murder of Thomas Kinnear and his housekeeper Nancy Montgomery. In 1853, ten years after the crime commitment, the Canadian writer Suzanna Moodie told about her. A hundred and twenty years later, Margaret Atwood wrote the script for the television film 'The Servant Girl' which was drawn from a Suzanna Moodie's book. Atwood returned to the of Grace's life story once again releasing the novel "Alias Grace" in 1996.
Another multi-part adaptation of the novel by Margaret Atwood, the series "The Handmaid's Tale" is still on the screens: it was recently extended for the fifth season (since the fourth season is only to be premiered soon). In 2019, it became known that the Hulu channel will also shoot a spin-off of "The Handmaid's Tale" based on Atwood's most recent novel "The Testaments".
It is interesting that in both "The Handmaid's Tale" and the TV series "Alias Grace" Margaret Atwood plays secondary roles by herself. In the first case, she appears in the form of one of the overseer-educators, and in the second, as a woman in the church.
About
A Canadian television series was based on the eponymous novel written by Margaret Atwood in the drama genre.
"Alias Grace" premiered on September 12 at the Toronto Film Festival.
Related Shows
Handmaid's Tale
Alienist
Unbelievable
Godless
Tags: drama, psychiatry, murder, screen version, Margaret Atwood, Sarah Gadon